p̵̡̛̙͖̤͔̲̟̗̮͛̈̐́̿̆́̂̃̒̄͆̚̕͜y̷̨͈̠̞͓͓͙̱̞̥̣̹̐͆̑́́͋̋̈́͊̓̅́̌͝͠k̸̲͇̘̫̪̰͖̬̣͒̐̇̔̓͊͐̎̕ą̵̛̛͉̠̪̩̖̠̜̗͙͓̦́̌͌̌͋̏̽̌̽̓̀͜͝ͅ_̸̡̛̰͖̼̰̝̦̤̠̟̰̱̬̥̘̭̅́͋̆h̷̳͍̟̖̙̤̝̱̖̰͐̔̉͗̋̈̓̆̈́̿͛̓̕̕̕a̷̢͚͓̩̠̘̱̭̲̺̻̳̮̱͇̙̍͐̾̏́͂̏͆̐̋͌̓͠͠͝ͅͅç̴̨̩͓͍̯̙̭͈̈̇̅̒͋̅́͐͆̉͒͗̾̀̀̈̚ķ̴̛̬͕̬̙̩͎͈̍̆̍̇͌̍̈͑̌̆̈́͊͗́̿͑͆̃͝ ̶̤̼͕̑̋̎́̀̿̊Ţ̴̭͎͈͎̲̦͖͚̪̞̿̑̈́͗́͌̀á̸̧̡̀̋̚͝t̸̞͍̩̟͕̲̺̳͈͇̺̟̝̺̗̔̓̎͊̋̽͛̕̕͘͜͠ę̴̩̤̟̫̥͚͇̞̣͎̖̬̪̞̞̏̈́͒̐̔̾̓̑͑̈̋̅̏̚ ̴̢̢͖̲͎̫̜͇̽͋̀̓̋͋̾̏̒̄́͝͝ͅ2̵̧̧͓̟̹͖͔̹͔̱͈̟̟͕̯̲̼́̀ͅ0̶̡̤̖͍͓̪̙̮̬͎̥̬̙̏̀̂̐͂̓̃̉̾͠1̷̧̡̼̘̯̫͎̗͇͓̱͉̅̄͌̀́̿ͅͅ8̸̢͔̝̦̟͕̙̺͇̖̗͕̯̺́̊̓͐̒̃͒̿̋̓̾́͋͗̈́ ̴̳͚̱͇̥̟͈̬̠̰̼͓̍͌͒͆̍̐́̓͝i̷̢̛͉͚͋͋̈́͛͛̐͊́́́̐̔̕̕̕͜n̷̡̓̈̎͆̽̎͂̇͝i̸̡͕͇̳̜̣̭̖̖̇͂͌͘͜t̷̡̩̲͖͚̙̙̫͈̆̄̒͜͜͝ͅi̴̢̧̢͓̖̙̰̩̖̳̻̍̌̇̆͋̈́̑͗͜͝ȧ̶̧̨̙͇̯̺͎̮̬̻̬̺̹͖̝̬̃͋̿͒͌͗͜t̶̡̢̢̘͍̟͙͓̱͓̭̗̠͉̹̽͛̀̓̾͛e̵̯͕̘͑̔͗͆͌̇̐̂̄̈̈̈̍͐͋̀͆̑ḑ̶̨̫̱͉̮̥̜̦̖̘̂̾̃̑̄̈́̀̈́̔͝
.̸.̸.̸a̸h̸e̶m̶.̶ ̷A̵p̶o̷l̸o̴g̵i̸e̴s̵,̵ ̶w̶e̵ ̸h̷a̷v̴e̴ ̷a̵ ̴d̷i̶g̶i̸t̴a̵l̵ ̵f̵r̸o̶g̴ ̴i̷n̶ ̵t̴h̵e̷ ̶t̶h̶r̷o̵a̶t̴.̴ ̶L̸e̷t̷'̴s̴ ̵t̴r̵y̵ ̶t̵h̴a̴t̵ ̵a̸g̴a̶i̵n̶.̷.̶.̸

T̶̳̩̓̈́͜ȇ̴͔̗͉͇́͗̃s̷̡̙͔͊̈̀ͅt̸̹̾͆̀͝i̴̠͕͐n̶̫̈̂̚ͅg̵̡̲͠, testing, can you read this now?
pyka_hack 2018 has finally begun!

From data moshing to memes, pixel art to .gifs the first sprint of this year's _hack is off to a flying start. This year's recruits are already exploring and evaluating the many ways one can interact with visual artworks. Why? Well, that's because they're working for Tate, the greatest artwork museum this side of... well... both sides! All sides... of everything and everywhere!

Tate are tasking this year's schools with the enormous responsibility of creating a tool which will provide people across the country with a new and exciting way to interact with their digital collection. But before our learners begin the development of this year's exciting digital product they must undergo training to become rebellious digi-tech artists, who this year are being encouraged to 'think different'.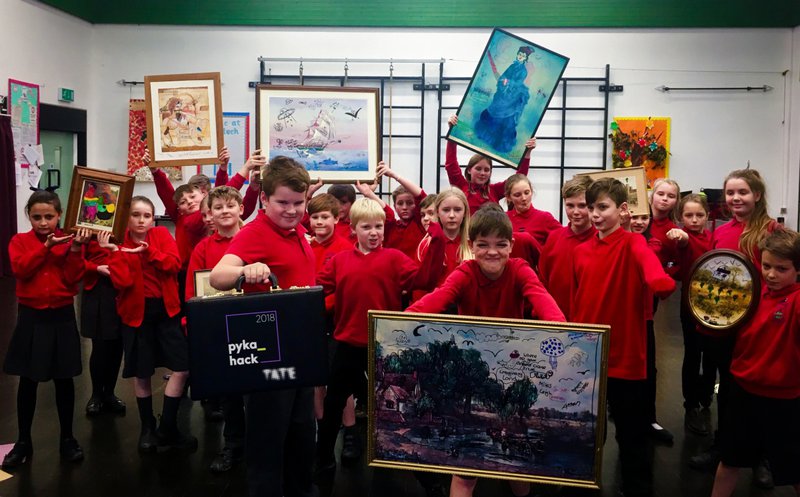 Each of the schools will be probing the deepest depths of the most unusual and sometimes overlooked creative visual processes. Putting some of the most famous paintings in the world at the centre of their creativity, they will twist and shape these artworks into new forms, evaluate those creative processes, and figure out exactly what their engaging digital tool should allow people to do.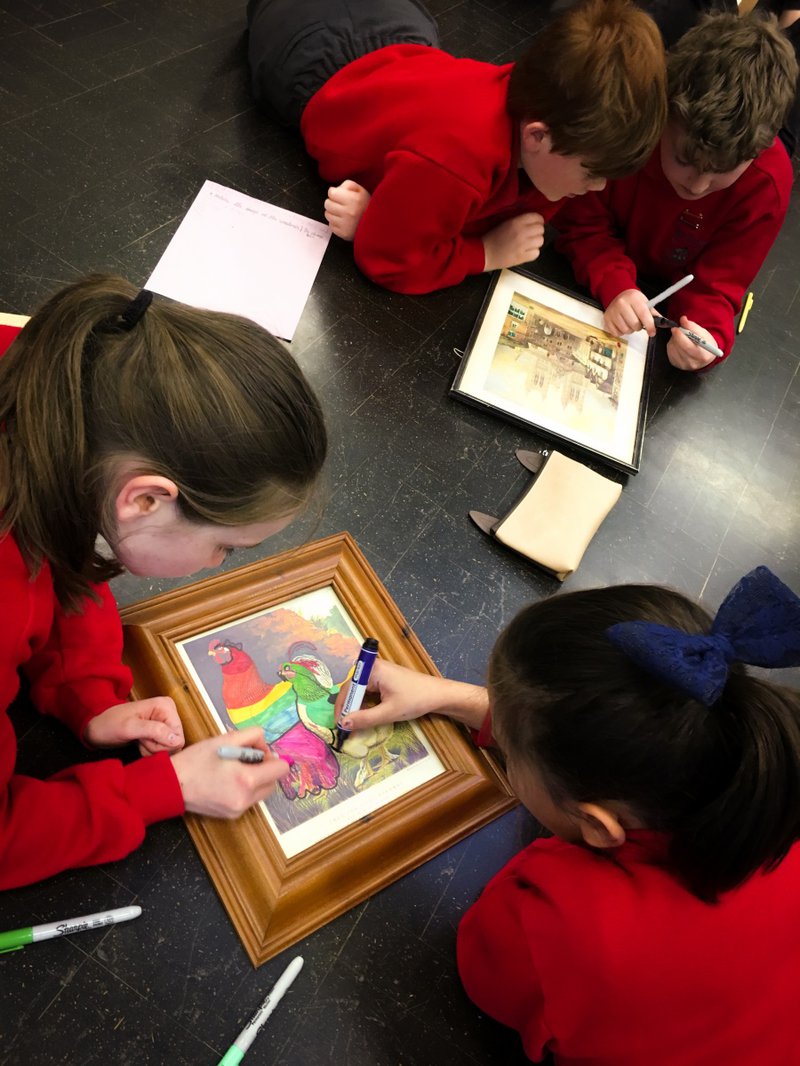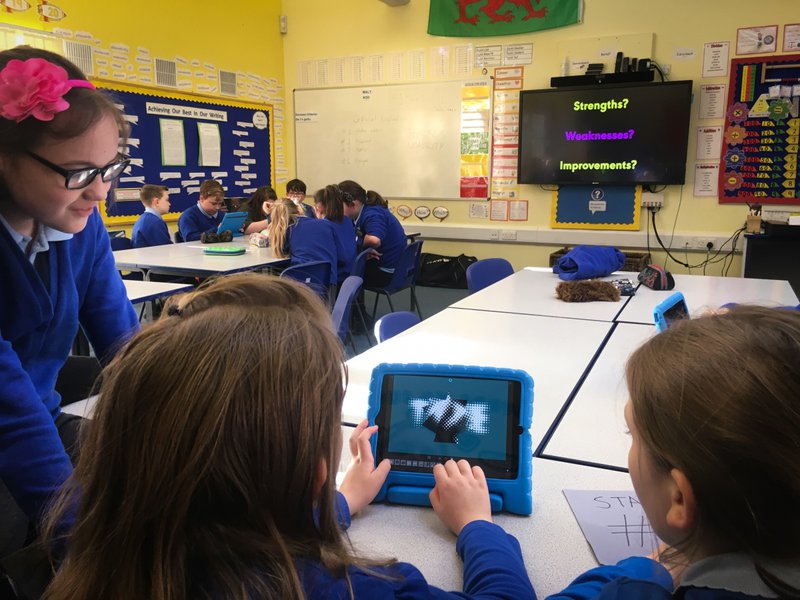 Coming along for this once in a lifetime ride is our biggest _hack cohort to date! This year we're joined by Trellech Primary, Llanfoist Fawr, Ysgol y Ddraig, Cadoxton Primary, High Street Primary, Ty Gwyn, Woodlands High School, and Riverbank School.

There will be lots to report, so watch this space - things are about to get ̶g̴͎̰̹͙͈̽̊͗l̶̨̲̩̲̞̲͉͆̅̓į̶̮̙͇̱̺̭͌̌̀̐̔͘ẗ̷̡̧̪̩͍́́͂c̸̟̣̮̲̱̫͉̉̀̾ḧ̵̨̘̀́̋̔͂̀e̵̦̩̮̍̉͂̈̾͑͠d̴̏̈͑̿̕͜