pyka are moving beyond the iPad, and we're bringing meaningful creativity along with us.
Let's flashback to the end of 2017 - we decided to apply for the Arts Council of Wales' Creative Collaborations fund in the hopes of doing something very exciting indeed - develop a series of new digital tools that increased access to meaningful creative expression.

We set out with the proposal of an ambitious program of work which would span a network of ALN schools and bring together a range of creative disciplines to explore the creative and expressive potential of under-leveraged assistive technology. By making technologies like Eyegaze the centre of this program we would aim to create meaningful connections between a wide range of ALN learners to demonstrate that the particular technologies and needs of the ALN community can be an engine for inspiring technological and creative innovation for all.

Historically, our digital tools have always been developed in partnership with schools, quite literally within the classroom itself. It's a process that has not only benefited the development of each of our tools but has also enhanced the learning that takes place across the school as a result of the development process. It's this tradition that we feel is more relevant than ever when it comes to developing software for individuals with the most complex and diverse needs imaginable. So for our Eyegaze software to be effective and relevant, we would need to work very closely with the staff and learners who understand these needs more than anyone. This is why we felt that Creative Collaborations was the most natural fit for all of our digital hopes and dreams.
Flash forward to March 2018, and we have some very exciting news indeed! We're delighted to confirm that our Creative Collaboration bid was successful. So without further ado, we're proud to announce...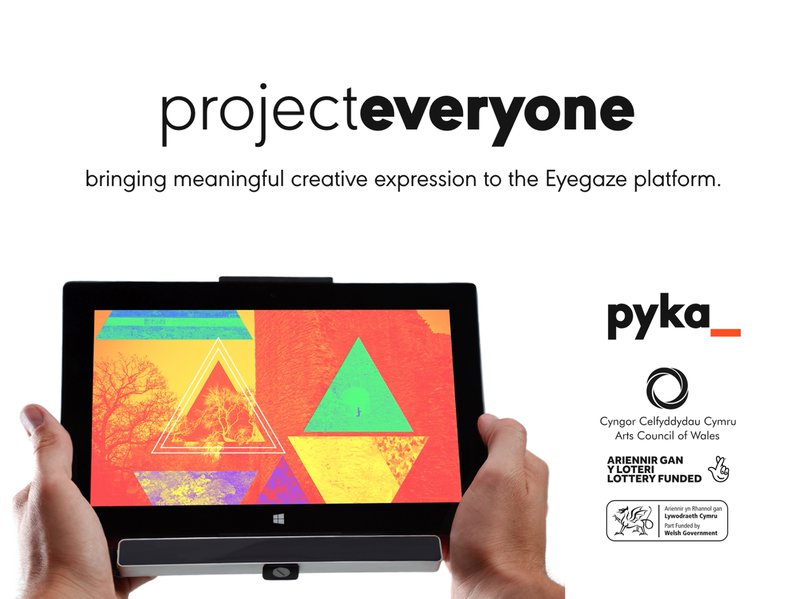 project everyone will operate as a collaborative relationship between pyka and a federation of ALN schools: Ty Gwyn Special School, Riverbank School, and Woodlands High School. Together, we will:
Explore multi-discipline creativity, reaching a wide range of ALN learners across all of the school sites.
Work closely with the school staff to generate collaborative learning resources for the wider federation.
Gather learning to inform the development of our expressive digital software for a variety of digital platforms.
With creativity and learning at the centre of the software's development, project everyone will be broken down into four discrete units of work: VISUAL, SOUND, MOVEMENT, and INTERACTION: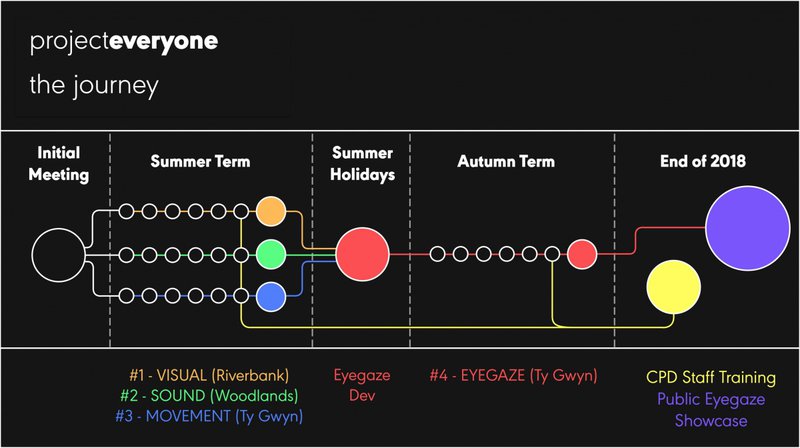 Each of the artistic disciplines behind the VISUAL, SOUND, and MOVEMENT projects will help inform the multimedia and interactive elements of the Eyegaze software. Observations from each of these project will help provide answers to the following questions:

"How can the expressive act of visual creativity be made accessible in digital platforms?" (VISUAL)
"How can sound convey mood and emotion and allow individuals to express themselves?" (SOUND)
"How can the expressive impact of dance be achieved through restricted movement?" (MOVEMENT)
The creative activities that help answer these questions will become repeatable processes, generated as resources in collaboration with the school and disseminated across the wider federation via CPD/CPDL training events extending beyond the delivery of this project and part of the ongoing legacy of this work.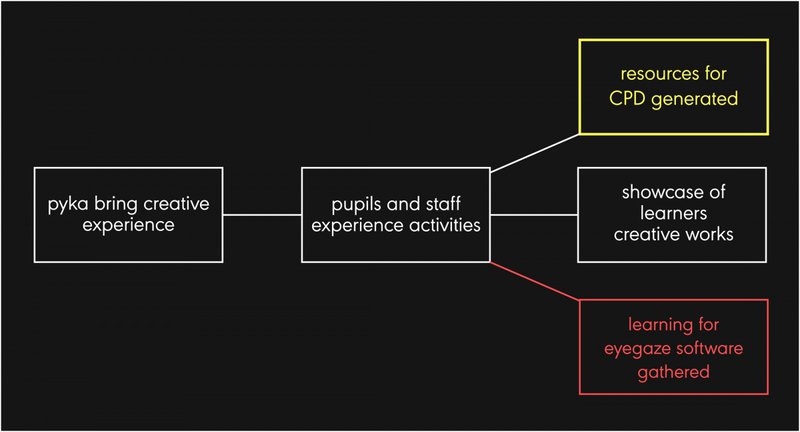 Following a whole plethora of creative activity in the Summer Term, the software will continue its development over the summer holidays influenced by all of the learning generated by the artists and staff involved. The prototype software will then be tested by staff and PMLD students during the INTERACTION project which will take place in the Autumn Term. Here we will refine the software to ensure that meaningful expression and creativity is making its way into our emerging software.
Finally, as we approach the end of 2018, we will be bringing the software into the public eye at an installation and exhibition Event at Chapter Arts in Cardiff. Here educators, learners, artists, care-givers, and the general public will be able to test and experience the software and engage in creative digital activities using nothing but the movement of their eyes. Visitors will also get a chance to see a showcase of the participating learners' artworks, and get up close and personal with the creative explorations that will have brought the software to life.
So, watch this space and keep your eyes open for updates, because before long you'll be able to use them for more than just reading...